Details

Category: Photography Courses
Created on 11 February 2015
FIRST TIME IN ITALY
We invite you to nude art photography workshop with Czech photographer Jiri Ruzek and Italian model Alessandra Giulia. Workshop will be held in a beautiful 19th-century villa in Crespina, Italy.
Saturday April 25 2015, 10:00 - 17:00
Versione italiana
Last 2 places.

Deposit not required. Contact me if you want to attend.

The workshop aims to show the possibilities and pitfalls when photographing models. You will have the opportunity to peek behind the scenes and get another perspective on the issue of photographing not only the nude art photographs.
Under the expert guidance of Jiri Ruzek you will learn how to work with model, how to achieve the desired effect learning the intricacies of your camera, playing with lights and shadows, different lenses, angles and distances, how to avoid unnecessary and often repeated mistakes etc...
You will learn the basics of composition and if you will listen carefully, you will also learn how to give the photo a little extra, because the mastery of technique is not everything and there is still a big difference between taking a picture of a naked girl and creating a nude art photograph.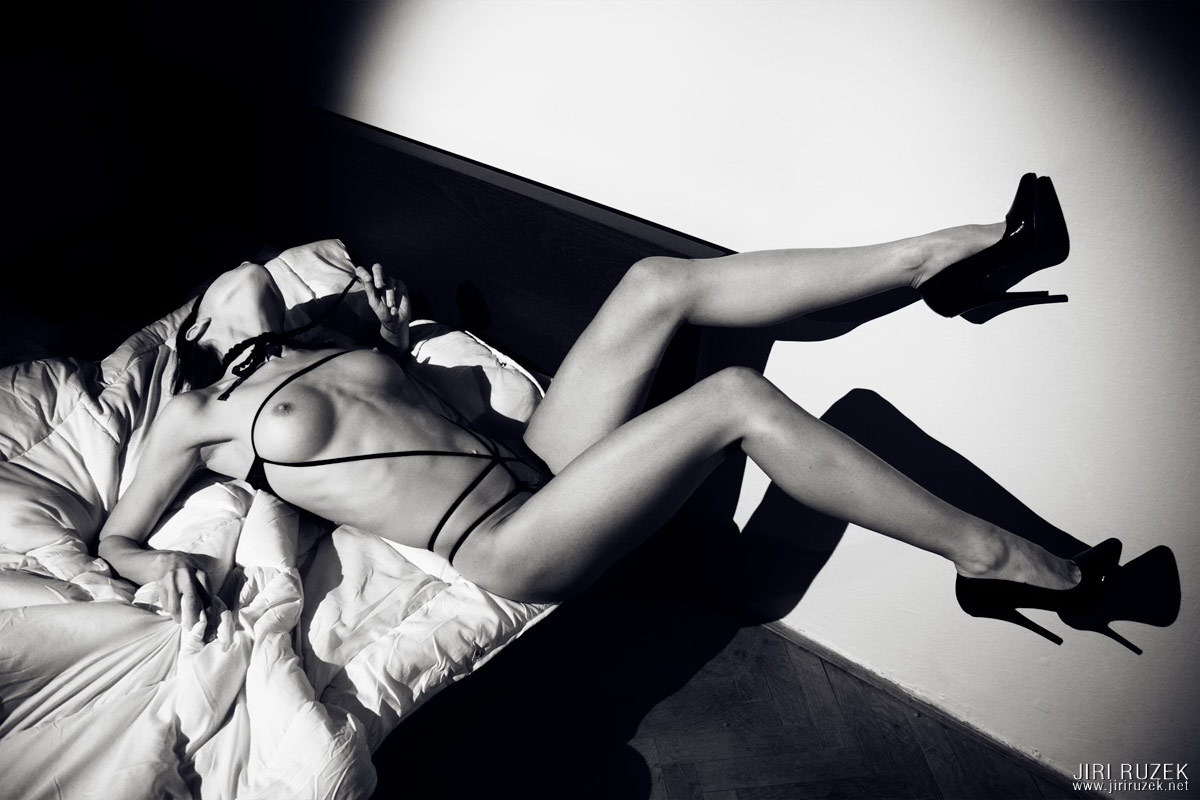 SHOOTING MUST BE FUN, NOT DRUDGERY!
Workshops with Jiri Ruzek are different.
They are not typically commercial, on the contrary, they are full of casual friendly atmosphere.
PROGRAM
Communication with the model
Photo ethics when photographing nude art
Working with a naked and half-naked body
Working with different types of light - daylight, Fresnel lights, alternative lights
Choosing the right lens for different shots, working with the lens
Effective use of the camera
Fundamentals of composition
The most common photographic mistakes
Unfamiliar tricks and cheats
A lot of indoor and outdoor shooting with an amazing model, of course
After-workshop online critiques and discussions
and much more ...
IN CASE OF HIGHER AMOUNT OF PHOTOGRAPHERS WE WILL WORK WITH MORE MODELS
PLACE, TRANSPORT AND OTHER INFORMATION
The workshop will be held in the interiors and exteriors of a wonderful Tuscan villa from the 19th century.
Crespina is located approximately 60 km southwest of Florence and 20 km south of Pisa.
Bus (No. 50) from Pisa departs at 7:45 a.m. and arrives in Crespina at 8:35 a.m.
The return bus goes from Crespina at 18:05 and arrives in Pisa at 18:55.
Since we have only a few hours for this event, we will not lose our time with a lunch. Food and drink will be provided in the form of cold buffet (aperitivo).
Sat, April 25, 2015
Start: 10:00
End: 17:00
Place: Crespina, Italy
Closest airport: Pisa
Closest train stations: Pisa, Pontedera, Livorno
Price: € 290,-
Workshop will be held in english language.
RESERVATION
For reservation use the form on this page please.
The deposit is non-refundable if you do not come to the workshop.
In case the workshop will be canceled, your money will be completely refunded.
CONTACTS
e-mail: This email address is being protected from spambots. You need JavaScript enabled to view it.
phone: +420776116739 - also Viber and Whatsapp
Jiri Ruzek official website - http://www.jiriruzek.net
Facebook page - https://www.facebook.com/JiriRuzekPhotography
Alessandra Giulia Tumblr page - http://alessandragiulia.tumblr.com
Facebook page - https://www.facebook.com/alessandra.giulia.52
Villa Duck Toscana - more info
Hotels in Pisa - show hotels
---
These photographs have been taken during our workshops.
---
Comments: