Details

Category: Latest News
Created on 07 June 2012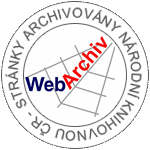 Since today, June 7, 2012, the whole content of this website has been archived by the National Library of the Czech Republic. Click the logo for more information.
Comments:
Upcoming Events
Centrum FotoŠkoda
-
Prague
Beseda s Jiřím Růžkem na téma uměleckého aktu v rámci FotoŠkoda Fest
---
Valašské Meziříčí
-
Valasske Mezirici
Opět budeme s Viki dva dny na workshopu ve Valašském Meziříčí. Workshop bude součástí foto festivalu ValMez Open 2018.
---
Malostranský ateliér
-
Prague
Celodenní skupinový workshop fotografování uměleckého aktu s Jiřím Růžkem v Praze.
---